Wed, 22 June 2016
Bad at Sports Episode 552: MSB vs. Chris Dennis
This week sees the return of the once thought lost Mark Staff Brandl!
From his site:
Chris Dennis grew up in, England. He studied natural history illustration at Bournemouth and Poole College of Art and this classical training is evident in his current therianthropic work. After completing his BA (Hons) at the University of Wolverhampton he relocated to the United States, and in 2000 earned his MFA from the University of Art in San Francisco. In 2010 after a period in Berlin, Chris made Auckland his home. He has exhibited in New Zealand, Europe and across the United States.

He currently resides in Zürich, Switzerland.
My paintings are perhaps best described as 'Narrative expressionism' or 'internalized portraiture'. The stories behind these 'Therianthropic' pieces have been carefully obfuscated and invite the viewer to create their own narrative, bringing to mind facets or emotions that maybe more difficult to confront if not disguised behind a mask.
---
Mon, 13 June 2016
Bad at Sports Episode 551: Tim Kinsella
Tim Kinsella!
Yes that Tim Kinsella. The visionary musician behind Joan of Arc, Owls, and Mid-Western indie rock world changers, Cap n' Jazz. He joined Duncan in his class "The Late Late Afternoon Show" to discuss all things indie rock, writing books, and now being a publisher at Featherproof Press.
Minds will be shredded.
While your listening to the show, why not head over to the Elastic Arts Space and check out Joan of Arcs many Artist/Musicians work and if you hit it on a Tuesday on or after the 21st you'll catch one of their many tied in bands...
From http://www.joyfulnoiserecordings.com/collections/tim-kinsella
from http://soloset.blogspot.com/2010/11/why-pitchfork-are-wrong-about-joan-of.html
---
Wed, 1 June 2016
Bad at Sports Episode 550: Zachary Dodson
This week we check in with Zachary Dodson about all things Scandinavian, Featherproof Press, and BATS OF THE REPUBLIC.
From his website...
Zach Dodson is a book designer particularly interested in visual narrative. He has designed books for many independent presses, most notably featherproof books, which he founded in Chicago in 2005. Contact him about freelance book design projects by putting "@gmail.com" after his name.
Texan Zachary Thomas is the author and illustrator of Bats of the Republic, an illuminated novel published by Doubleday in 2015. Zach Plague wrote and designed the hybrid image/text boring boring boring boring boring boring boring in 2008. Neither should be contacted, as they exist only speculatively.
Professor Zachary Dodson teaches courses on hybrid narrative and storytelling at Aalto University in Helsinki, Finland. He is available for guest lectures or workshops on book design, visual narrative or publishing.
Other names dropped... Tim Kinsella, Anna Kunz, Columbia College Chicago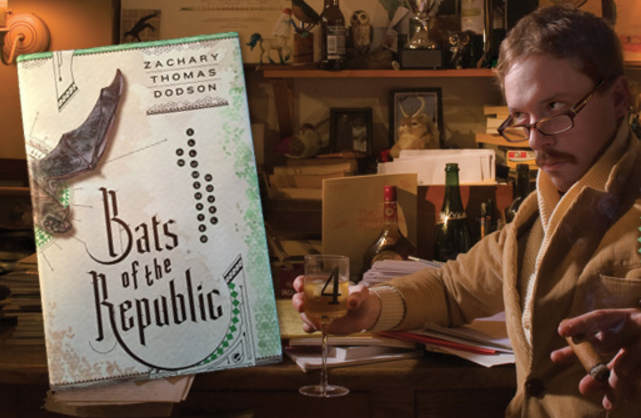 ---
Tue, 24 May 2016
Bad at Sports Episode 549: James Wines SITE Architect
Low and behold, in conjunction with Rhona Hoffman and on the eve of the 2015 Chicago Architectural Biennial we had a once in a life time opportunity to sit down and speak with James Wines of SITE. An architect so radical his buildings have a power quite unlike most contemporary architects, they don't bend us with spectacle, physicality, or industry, they delight us with wit and whimsy. They open our eyes to a magic in the everyday or in the second glance you have to give to a building telling you the story of its demise.
Some days this is the best job.
---
Mon, 9 May 2016
Bad at Sports Episode 548: Amanda Williams
This week Duncan, thanks to Columbia College Chicago and a class called the Late Late Afternoon Show, rocks the mic with Amanda Williams whose work blew our collective minds with the "Color(ed) Theory" series of public works on the south side of Chicago. She pulled in the lion's share of the press at the 2015 Chicago Architectural Biennial and seems to have been going nonstop since!
---
Thu, 21 April 2016
Bad at Sports Episode 547: Present Standard
This week: Richard and Duncan talk to the curators and artists of Present Standard!
Guest curated by Edra Soto and Josue Pellot, Present Standard features 25 contemporary artists with Latino Chicago connections. Their works that play with the manifold meanings and forms suggested by the "standard" – as either a flag or a pennant, a measuring tactic or a guiding principle, or a potent symbol of national identity.
---
Mon, 18 April 2016
Bad at Sports Episode 546 Ebony G Patterson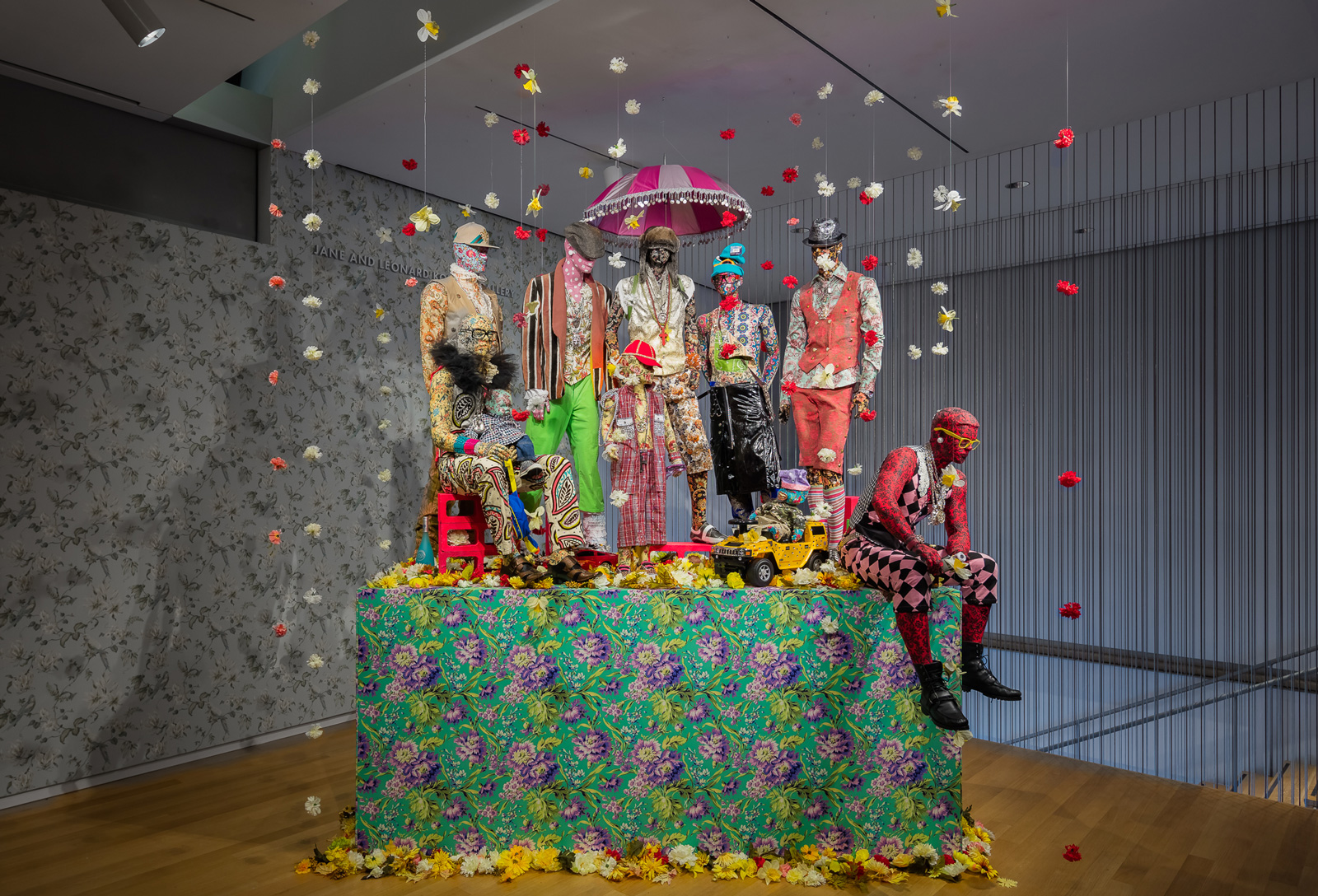 Ebony G Patterson is tearing apart our collective American contemporary art consciousness. She has recently closed a show at New York's Museum of Arts and Design and is rocking as exhibition at the Studio Museum in Harlem! We caught up with her at EXPO Chicago.
Richard and Duncan announce a new Bad at Sports initiative.
Names Dropped:
Bling Funerals, Trinidad Carnival, Monique Meloche, Krista Thompson, Claire Tancons, ICI (Independent Curators International), Michael Brown, Jacquard Loom, Prospect, Carpal Tunnel, Jamaica Biennial, Chincy, Skin Bleaching, Metrosexual, Man Bun, Kanye West, Jay Z, Kehendi Wiley, man liner, Cindy Sherman, the New York Times, Stan Douglas, Frank Stella, Jeffrey Gibson, Paul Anthony Smith, Dan Gunn, Sabina Ott
---
Mon, 11 April 2016
Bad at Sports Episode 545-Deborah Stratman
This week: NO NOT THE GUITAR COLLECTOR! Instead this week Duncan and Jesse talk to Deborah Stratman the artist and filmmaker.
---
Tue, 22 March 2016
Bad at Sports Episode 544: Spring Break!
This week: Bad at Sports goes to SPRING BREAK Art Fair in the burned out section of the Post Office building on the Westside of Manhattan. Sadly we did not get loopy with jello shots and beach balls, but instead nerded out with some killer art conversations with some fantastic work! Joining Amanda this week is her co-host artist Caroline Burghardt, a Brooklyn based artists who looks at the relationship between humans and nature. Check out her site at www.carolineburghardt.com.
At the fair we first chatted with artist David B. Smith about his installation of fabric based sculptures. Then headed over to the curated exhibition "Doppelnamer" that is curated by and Elisabeth Smolarz, Lauren Silberman and Jamie Diamond. We chatted with Elisabeth and Lauren about the artists in the show, and their doppelnamers. The artists featured in the room were: Daniel Bejar, Vince Contarino, Andrew Ross, Jonathan Allen, Brent Birnbaum, Jamie Diamond, Lauren Silberman and Elisabeth Smolarz... and all of their doppelnamers.
photo:
Top: David B. Smith installation at Spring Break
Bottom: Brent Birnbaum and his Doppelnamer + Elisabeth Smolarz and Lauren Silberman chatting with Caroline Burghardt and Amanda Browder in the Doppelnamer booth at Spring Break.
Part I:
David B. Smith : artist
Part II:
Elisabeth Smolarz and Lauren Silberman and Jamie Diamond curators and artists part of the booth "Dopplenamer"
Artists in the show: Daniel Bejar, Vince Contarino, Andrew Ross, Jonathan Allen, Brent Birnbaum and all of their doppelnamers.
---
Fri, 18 March 2016
Bad at Sports Episodes 543: SETI
Brian and Patricia play Mulder and Scully this week as they sit down with the masterminds behind the SETI Institute artists-in-residence program. For those B@S faithful listeners unfamiliar with the Institute (An oxymoron, if there ever was one ) SETI stands for the Search for Extraterrestrial Intelligence. Yes, friends, we're talking space aliens.
As part of the Institute's goal "to explore, understand, and explain the origin and nature of life in the universe, and to apply the knowledge gained to inspire and guide present and future generations," they now host a residency program for artists based out of their Mountain View, CA headquarters. Artists work with scientists across a range of disciplines at any of the associated facilities to facilitate an exchange of ideas an create new modes of comprehension or expression. No, they didn't tell us how you can apply.
We hear from SETI AIR director Charles Lindsey, who was the inaugural AIR, and Advisory Committee chair Denise Markonish, who is curator at MASSMoCA, as well as current AIRs Dario Robleto and Martin Wilner. Listen as they receive takeout delivery from ET.
Charles Lindsay
Charles is a multi-disciplinary artist interested in technology, eco-systems, semiotics and esoteric forms of humor. He was the SETI Institute's first Artist in Residence 2010 - 2015 and is now leading the SETI AIR program. Lindsay is a Guggenheim Fellow and the recipient of a 2015 Rauschenberg Residency. More about Charles Lindsay's work here.
Denise Markonish
Denise Markonish, Chair of the SETI AIR Advisory Committee, has been the curator at MASS MoCA since 2007 where her exhibitions include: Oh, Canada the largest survey of contemporary Canadian art; Sanford Biggers: The Cartographer's Conundrum, Michael Oatman: all utopias fell; Stephen Vitiello: All Those Vanished Engines, Nari Ward: Sub Mirage Lignum ; Petah Coyne: Everything That RisesMust Converge; Inigo Manglano-Ovalle:Gravity is a force to be reckoned with; These Days:Elegies for Modern Times and Badlands: New Horizons in Landscape. More about Denise Markonish's work here.
Dario Robleto (2016)
Dario is a transdisciplinary artist and storyteller whose research-driven practice results in intricate narratives and handcrafted objects that reflect his exploration of music, popular culture, science, war, and American history. He was recently appointed as the 2016 Texas State Artist Laureate. More about Dario Robleto's work here.
Martin Wilner (2015)
Martin is a visual artist and a psychiatrist interested in the processing of time-based dyadic relational correspondence, informed by principles of applied psychoanalytic theory, as a basis of his daily drawing practice. He is represented by Sperone Westwater in New York City and Hales Gallery in London and his work is in numerous public and private collections. He is also Assistant Clinical Professor of Psychiatry at Weill Cornell Medical College. More about Martin Wilner's work here.
---